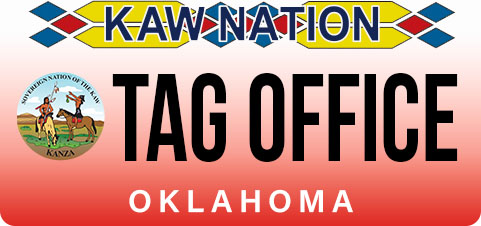 TAX COMMISSION
Tag Office
Standard Costs
The costs to register your vehicle with the Kaw nation are based on the number of years the vehicle has been registered in any jurisdiction. The costs are as follows:
Years 1 – 4   $75.00
Years 5 – 8   $65.00
Years 9 – 12   $50.00
Years 13 – 16   $30.00
Years 17 & Up   $15.00
ADDITIONAL COSTS
In addition: a one-time excise tax in the amount of two percent (2.0%) of the Factory Delivered Price will be charged for any new vehicle being registered. However, the excise tax is waived at this time for any used vehicle, or any vehicle that has been previously registered in this, or any other, jurisdiction.
Personalized plates will also be available for an additional fee of $15.00. You must first purchase a regular plate to be carried in the vehicle at all times.
Veteran's plates will be available for $15.00. The Veteran must present a Form DD-214 and will not be required to purchase a regular plate. However, if the Veteran requests a personalized Veteran's license plate there will be an additional fee of $15.00 and the regular plate must be carried in the vehicle at all times.
There will be a fee of $10.00 for the issuance of any original, transfer, duplicate, or repossession title.
Office Hours
Monday – Friday,  9:00 am – 3:00 pm.
Please call 580-269-2552 ask for Karen to make an appt.
Walk ins are welcome, but please note that you may have to wait to be seen.
TAG OFFICE
Frequently Asked Questions
For more information contact the Tax Commission at 580-269-2552 or email:  kawtagoffice@kawnation.gov.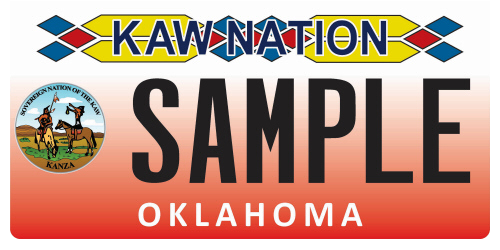 Who is eligible?
In order to register your vehicle with Kaw Nation, you must be an enrolled member of the Kaw Nation and reside in the State of Oklahoma.
How much will it cost?
Cost of registration depends on the year model of the vehicle. Costs decrease as the vehicle gets older. The first year the vehicle is registered with the Kaw Nation Tax Commission there is a $10.00 title fee added to the registration cost. For exact cost of registration, contact the Kaw Nation Tax Commission.
What do I need?
You will need to bring your title, registration, valid driver's license, CDIB membership card, an application for a Kaw Nation tag, (regular or personalized) and your current insurance verification.