The Kaw Nation Family Trauma Healing Center, in collaboration with the Human Trafficking Capacity Building Center, recently hosted an impactful event aimed at tackling the pressing issue of human trafficking in Oklahoma. Held on July 27, 2023, at The Pioneer Technology Center in Ponca City, this day-long regional gathering brought together local Tribal community members, victim advocates, and sexual assault/domestic violence advocates for an enlightening and educational workshop.
The event, graced by distinguished session facilitators Whitney Anderson, Executive Director of The Dragon Fly Home, and Jolene Engelking, National Tribal Sexual Assault Resource Center Coordinator, was a platform for attendees to deepen their knowledge about human trafficking while fostering peer networks and relationships.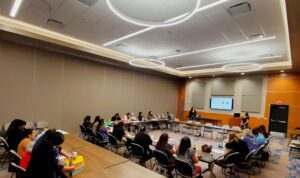 The workshop featured insightful discussions on various topics, including human trafficking in Oklahoma and the region-specific risk factors that contribute to its prevalence. Attendees were also introduced to trauma-informed tools and practices for identifying victims of human trafficking through a culturally responsive lens, recognizing the importance of culturally tailored approaches in addressing this issue.
In summary, the Kaw Nation Family Trauma Healing Center's regional gathering, co-sponsored by the Human Trafficking Capacity Building Center, provided an invaluable opportunity to raise awareness about human trafficking, equip attendees with the tools to identify victims, and underscore the importance of culturally responsive support for survivors. It was a significant step toward combatting human trafficking in the region and fostering a stronger network of advocates dedicated to this cause.