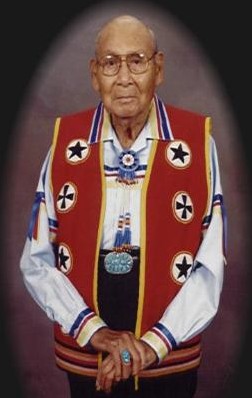 William A. Mehojah was born August 6, 1917 in Washunga, Oklahoma. He was the son of the late Maggie and Jesse Mehojah, Sr. He was of the Night Clan and his Indian name was Mikák'ehinga, which means Little Star. He graduated from Kaw City High School and received an Associate's degree in Business Administration from Haskell Institute in Lawrence, Kansas. He also attended Idaho State University. After his return from the Second World War, he worked briefly for the Veteran's Administrative Regional office in Muskogee, Oklahoma, before starting his distinguished career with the Bureau of Indian Affairs.
The desire to help Indian people, and not being able to help his own tribe, because of the circumstances at the time, his career led him to areas away from Oklahoma. He served in Administrative and Superintendent positions in Oklahoma, Montana, North Dakota, South Dakota, Idaho and Utah. During his service with the BIA he was recipient of a Meritorious Award and the Certificate of Superior Performance.
He served in many leadership positions and earned many honors throughout his life, including a citation from Governor Henry Bellmon in 1989 as a contributor to the State of Excellence.
While serving as Chairman of the Kaw Nation, many tasks were accomplished. His experience with the BIA enabled him to get the three lots in Kaw City into trust status, and submit a proposed constitution and charter to the Pawnee Agency on its first leg up the Bureau channel to the Assistant Secretary, in Washington, D.C., who would give his final approval to the documents and thereupon call an election. Tribal debts were liquidated.
Mr. Mehojah served on many committees and was Chairman of the National Flame Spirit Council. He was also named Outstanding Haskell Alumnus of 1995.
On the opening day of the Kaw Powwow, August 6, 1999, Mr. Mehojah celebrated his 82nd birthday. The State of Oklahoma joined members of the Kaw Nation in honoring the last full-blood Kaw and recognized him for his lifetime of devoted service to the Kaw Nation. On that day a proclamation was read to him, wherein Governor Frank Keating proclaimed August 6, 1999 as William A. Mehojah Day in the State of Oklahoma.
Mr. Mehojah passed away on Easter Morning, April 23rd, 2000.