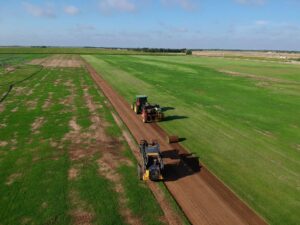 We are excited to share the latest developments at the Kaw Nation Powwow grounds in Kaw City, Oklahoma, where renovations have been brought to life under the capable oversight of Suann Palmer, ARPA Funds Coordinator. These renovations have not only enhanced the beauty of the grounds but have also improved resources for future powwows.
One of the standout features of the renovation project is the installation of fresh sod for the main dance arena. This new and lush sod was generously provided by Daniels's Sod Business LLC out of Tonkawa. What makes this even more remarkable is that the sod was harvested on the same day that the installation began, ensuring that it was ready for use during the 47th annual Kaw Nation Powwow.
Another notable addition to the grounds is the brand-new medical hut, a crucial resource for the safety and well-being of all participants. The construction and delivery of this facility was provided by Bartlett Building Center out of Ponca City. The old building was gracefully removed, and the site was meticulously prepared by the dedicated teams from the Kaw Nation Maintenance and Land Management, which are led by Scott Rennie and Colt Donelson.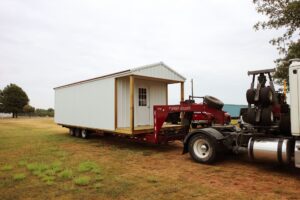 These renovations not only beautify the grounds but also provide a safe and enjoyable environment for all event attendees in years to come.
We extend our heartfelt thanks to Suann Palmer, ARPA Funds Coordinator, Daniels's Sod Business LLC, Bartlett Building Center, and all those involved in making these enhancements a reality. Their dedication and hard work have added a new layer of vibrancy and pride to the Kaw Nation Powwow grounds, ensuring that they remain a cherished place for generations to come.